_________________________________________________________________________________________________________
the work

Who's doing the work? We will be doing our share of demolition, construction and gardening with tremendous help from our family,friends and volunteers. Our first volunteer gardening day last August,turned out 15 people on a miserably hot and humid day, to attack the"dog strangling vines" which had covered the slight hill where we plan to site our berry bushes and fruit trees.

Design and key elements in construction of the building rehab,garden and renewable energy sources are provided by the companies and experts below.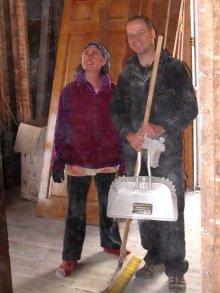 Andrée and Simon Hare of Placetailor

Since 2008.
Placetailor Inc. is everything your built environment ever needed. We're user-drivendesigners and architect-friendly contractors, all at once.
We make architecture. Forus, Design/Build is more than a project delivery method - it's a way oflife. We w

ork unhurriedly, on

eproject at a time, so you get ourundivided attention while we attainthe highest levels ofprofessionalism. We live and work in Boston, andare actively involvedin its civic scene. If you ever see a cyclist inwhite overalls,leaning up against a construction site fence making aquickstudy-sketch, there's a good chance you've spotted a Placetailor.


Simon

Hare, an Associate member of the American Institute of Architects,LEEDAccredited Professional, and Licensed Construction Supervisor in Massachusetts.



Declan

Keefe, a photographer, graphic designer, and nighttime Boston Architectural College student.



Kevin

Young, a union-trained carpenter, AmeriCorps alum, and nighttime Boston Architectural College student.
Green City Growers
are passionate and experienced organic farmers with a background in urbanfarming. Operating in the Boston area, w
e build, design, and maintainraised bed, year-round produce farms built specifically foryour city-sized yard, rooftop or schoolyard. We also offerinstitution-sized farms, the Green City Schoolyards educationalprogram, sustainable bioremediation
programs (got toxic land? We'll clean it up for you)
, and consulting services.
For less money a year than shopping organic atfarmer's markets or fancy grocery stores, you can have your ownpersonal city farm right outside your back door!

Gabriel Erde-Cohen, our urban gardener, studied farming and sustainable design at Hampshire College.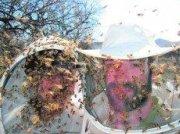 Dean & Ramona, our "small bee" beekeepers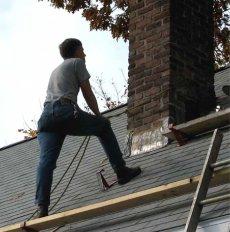 Peg Prebble, neighbor & master electrician




Excerpt from Worcester Telegram, October 30, 2008
Beekeepers find their work a sweeter task without chemicals, by Paula J. Owen
"All honeybees are not created equal, Leominster beekeepers Dean E. Stiglitz and Laurie "Ramona" A. Herboldsheimer say.The best, sweetest honey comes from bees that are left alone, they believe.

The majority of people do not realize that almost all beekeepersapply some chemical treatments directly inside the hive, Mr. Stiglitzsaid. Those treatments, though recommended by most government anduniversity agricultural programs, are causing imbalances in the"diverse culture" inside the hives, he said.

"When honeybees are treated for diseases and parasites, the treatments obscure which genetic lines possess a natural resistance,"he said. "In nature, resistant populations rapidly prove themselves by surviving when others perish in the face of new and old challenges."
Peg Prebble, electrician


Peg Preble, electrician for JP Green House,motorcyclist and neighborhood watchdog, lives a block up from the JPGreen House, which she watched over the building when it was abandoned,rescuing a stray kitten who became wedged behind a wall & boarding up windows after pipes burst.